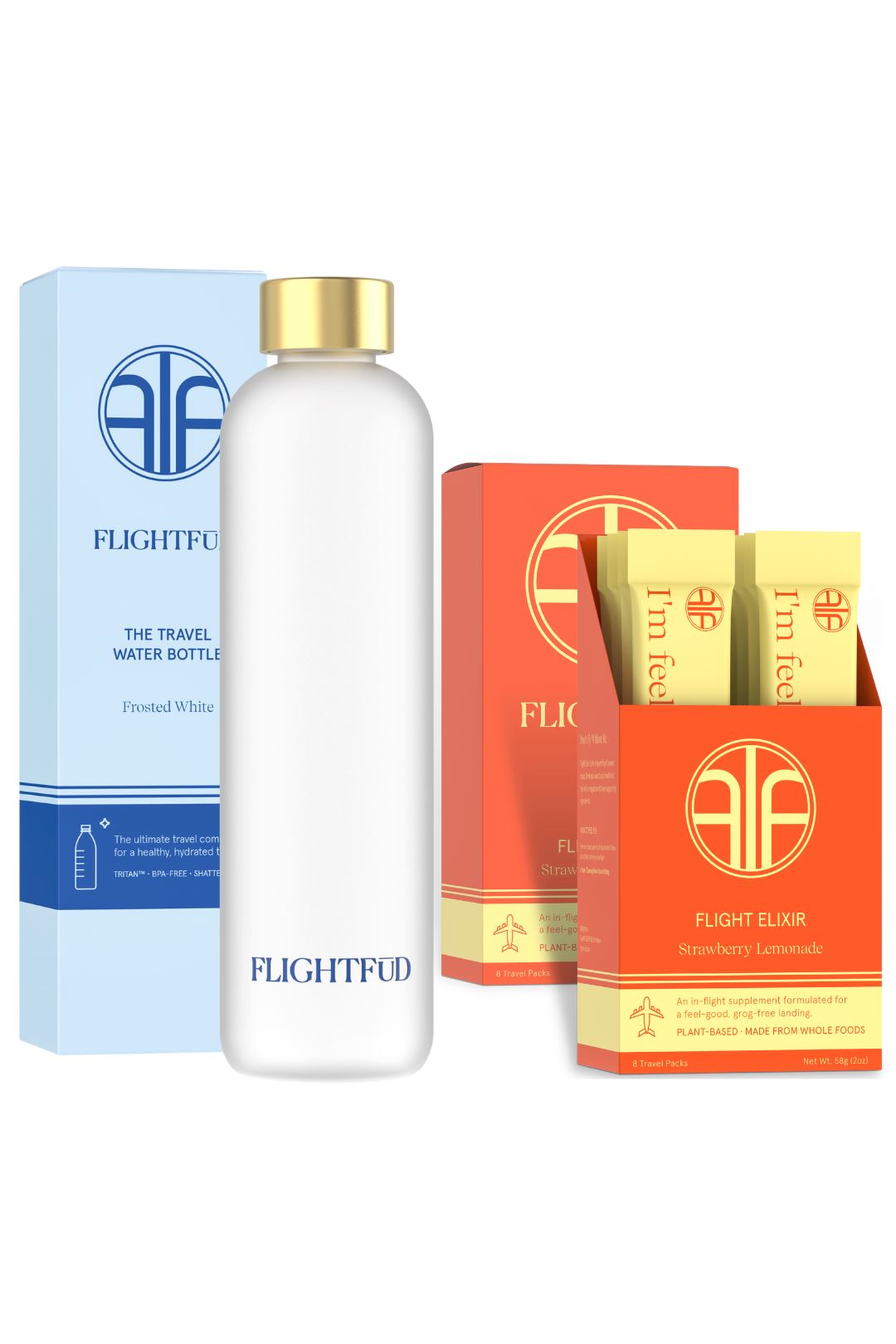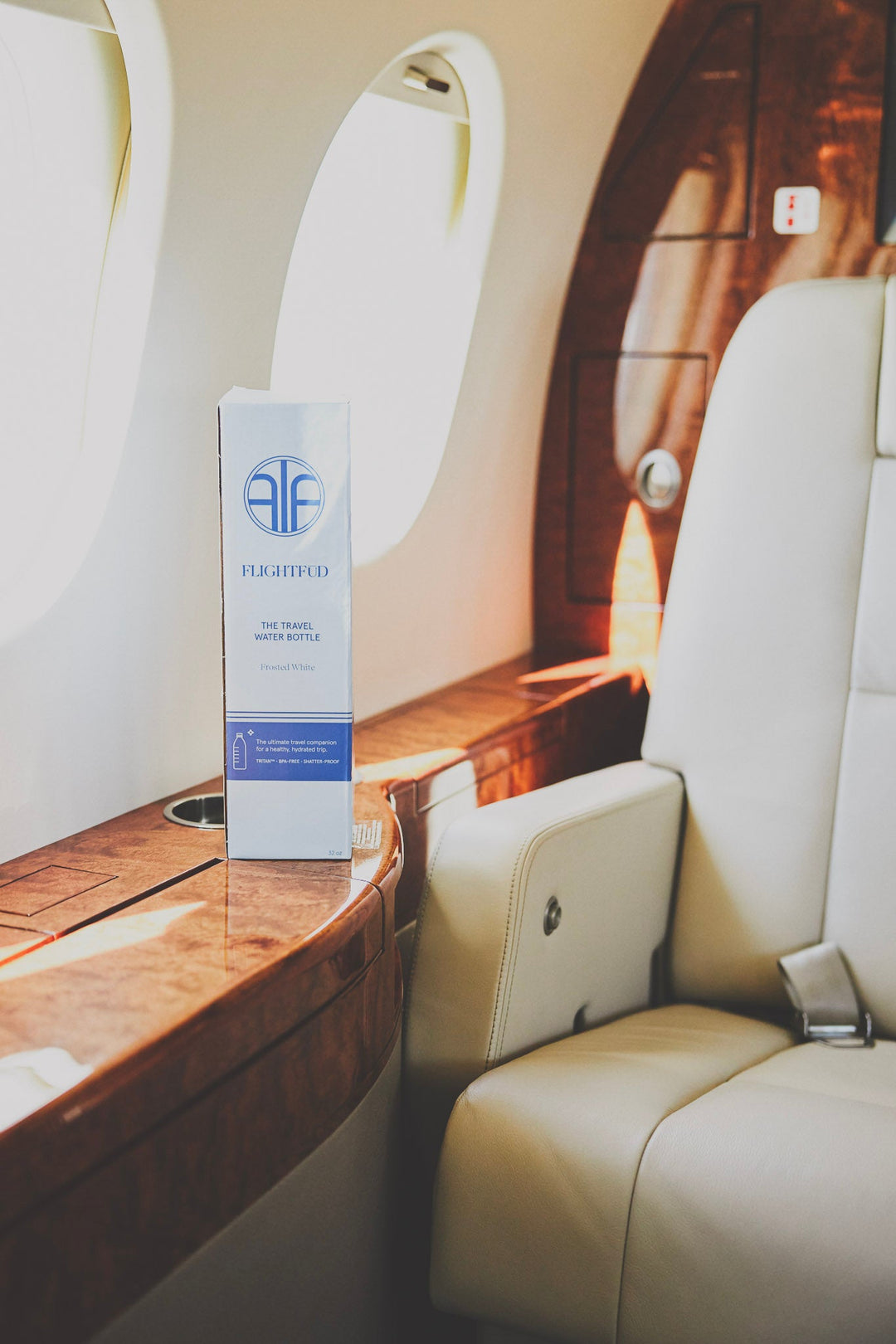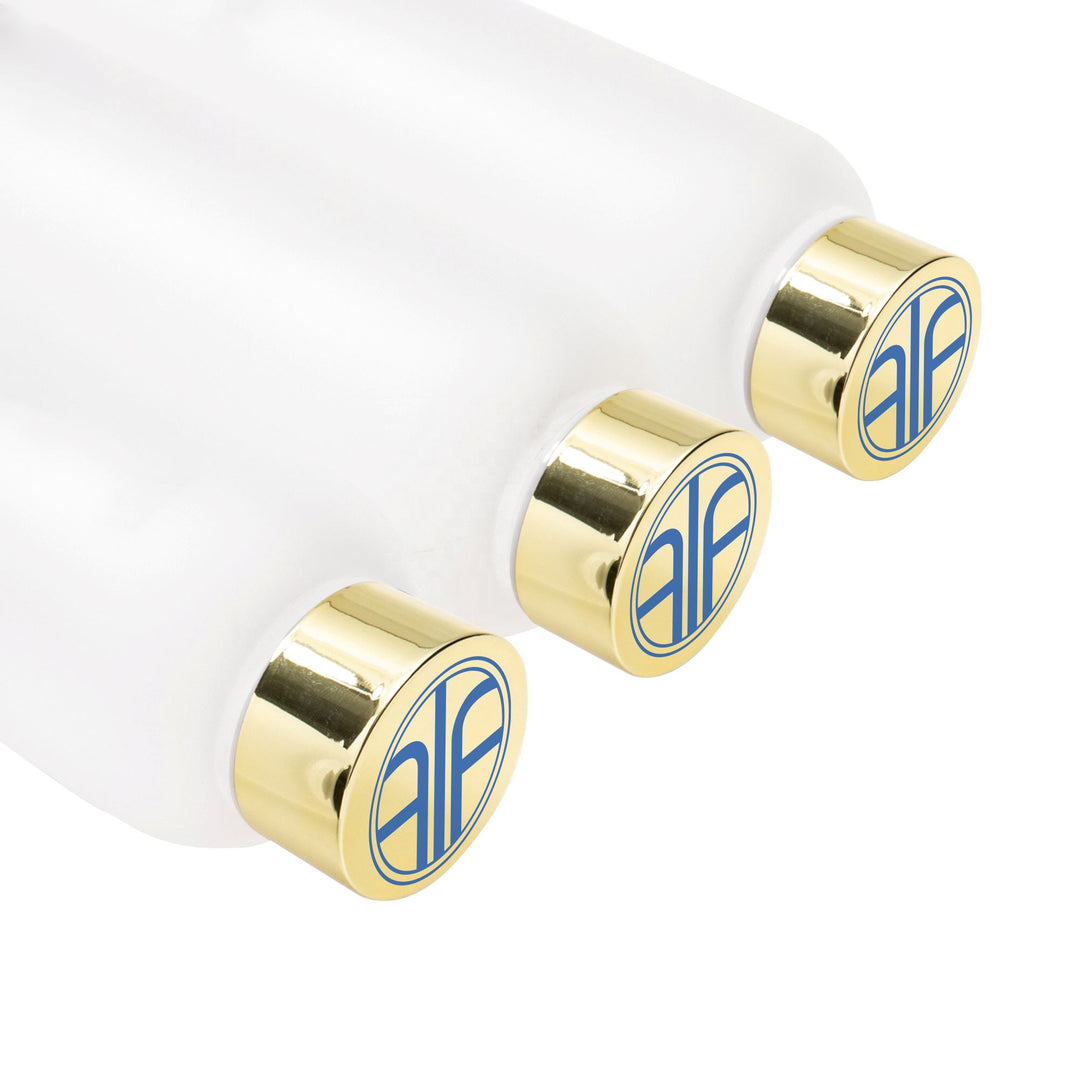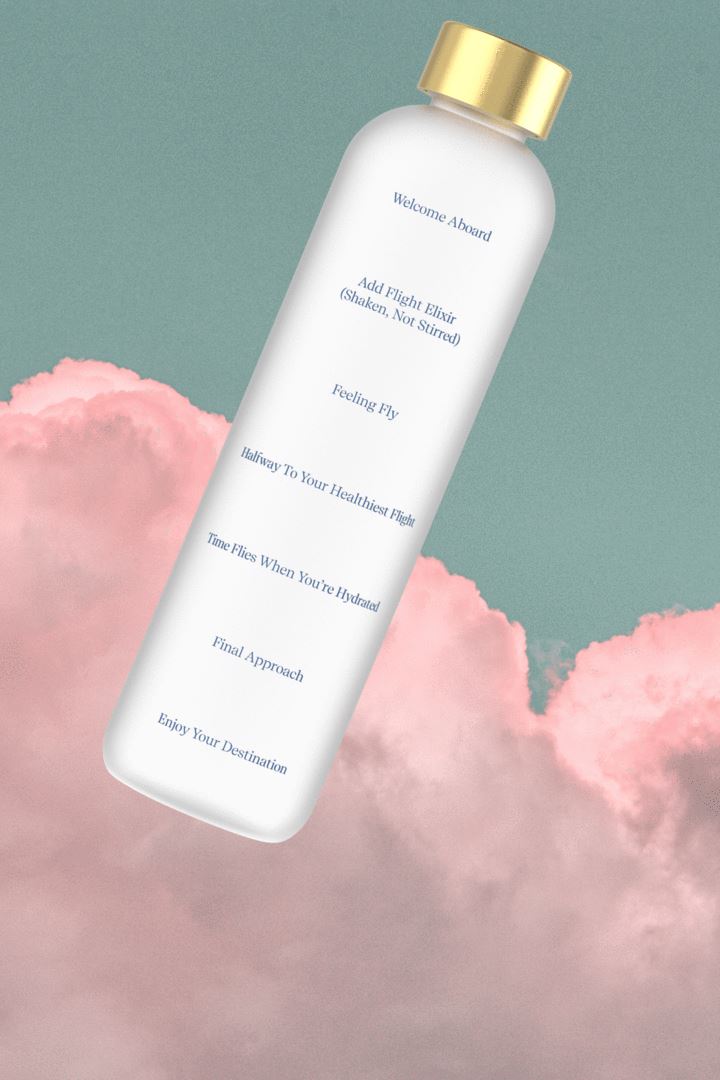 ★★★★★
"Does what it says!
I usually have terrible bloating and leg cramps when I fly.
I took Flight Elixir as directed and had a great flight, no bloating or cramps!"

- Shannon H.
Verified Buyer
What's included
The Hydration Bundle comes with:
2 x 8-packs of Flight Elixir. Each pack covers up to 24 hours of flying, so the bundle covers you for 48 hours total! 
1 x The Travel Water Bottle by FLIGHTFŪD. This 32oz BPA-free motivational travel water bottle includes time markers so you can keep track of your water intake when it's hardest to hydrate - when you're on the fly. It's the perfect travel companion for Flight Elixir.
How to use FLIGHT ELIXIR
1. Pour 1 sachet of Flight Elixir into as much or as little water as you'd like.
2. Shake, shake, shake to mix.
3. Sit back, sip, and enjoy your flight.
*We recommend to drink 1 sachet for every 4 hours of flying.
Make hydration a no-brainer
Between cabin air that's dryer than the Sahara desert, jet lag, and inconsistent routines, travel is dehydrating. That's why we made Flight Elixir a drink mix.
Featuring motivational time markers
The motivational time markers on The Travel Water Bottle remind you to hydrate throughout your trip. Just fill, drink to the time marker, refill halfway through your flight or day, and enjoy the benefits of elevated hydration.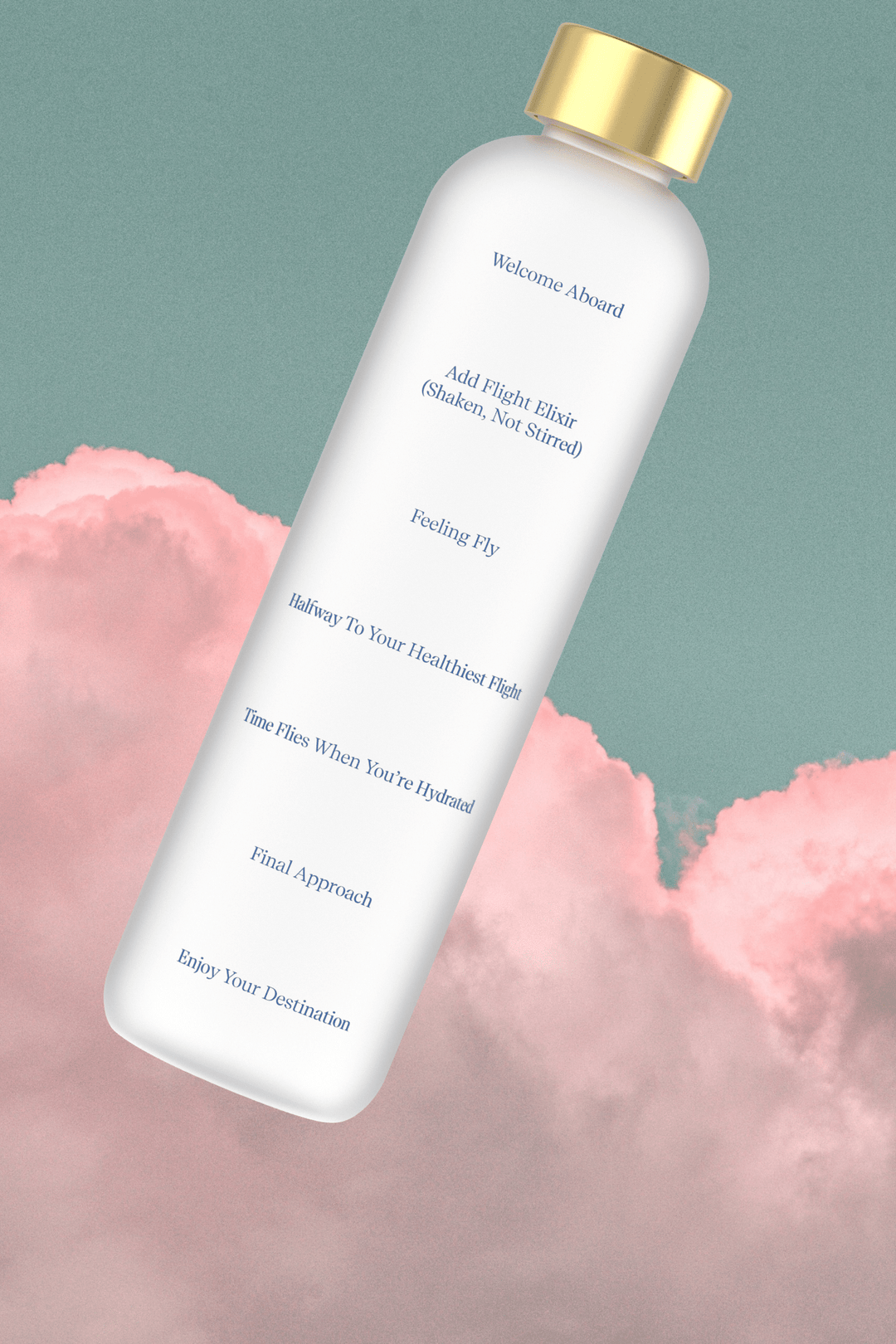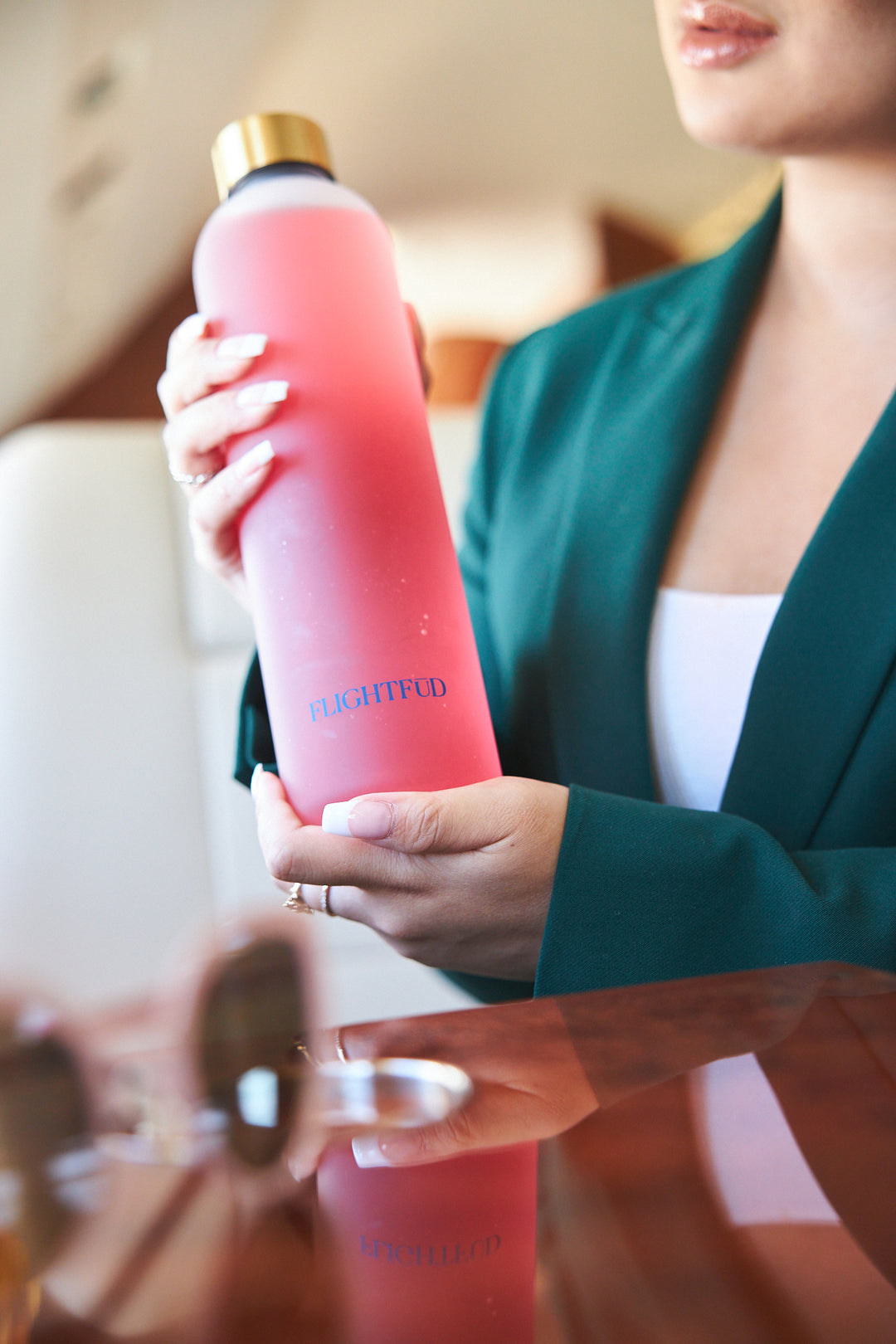 Elevated Design
Not just a motivational water bottle.

The Travel Water Bottle was thoughtfully crafted and beautifully designed so you can be inspired not only by the sights of your final destination but also by the journey.
Frosted white + gold
Frosted white bottle with a gold screw-top lid and beautiful, cobalt-blue font - you'll be proud to pack it. 
Customer Reviews
03/10/2023
Lisa B.

Canada
Amazing product and service
03/09/2023
Anonymous

Canada
Worth it!
Always feel very bloated and lethargic after flying but this helped immensely!
03/09/2023
Anonymous

United States
Better than I thought
The flavor is subtle and adds a nice taste to hydrating which is so important when flying. Shared a packet with my daughter and she's sold also!
03/05/2023
Joelle P.

Canada
I don't fly without it!!
I have been using Flight Fūd for three years now… As a Flight Attendant I know just how important it is to stay hydrated and to fight free radicals! The not-too-sweet flavour is just as refreshing today as when I started drinking it three years ago. I also love supporting a woman-based business and a product that was co-created by a Flight Attendant. Try it for yourself and see!
03/01/2023
Vivian

Canada
Amazing product!
I have been taking this since last Simmer when my family and I started to travel again. I usually have an upset bloated feeling at the end of flights, but with FlightFud I didn't have that feeling. At first I thought it was all in my head….. But now after 6 trips… It really is the FlightFud!! I live in Canada and it ships super fast as well!! Well done!!