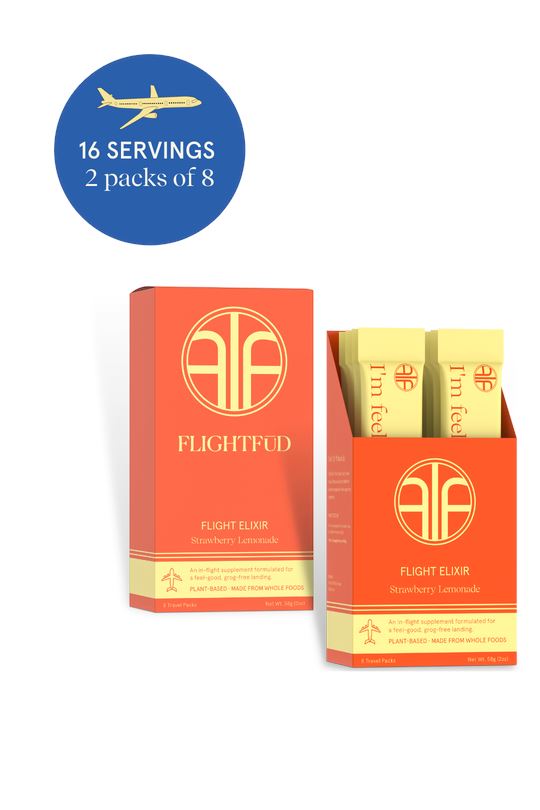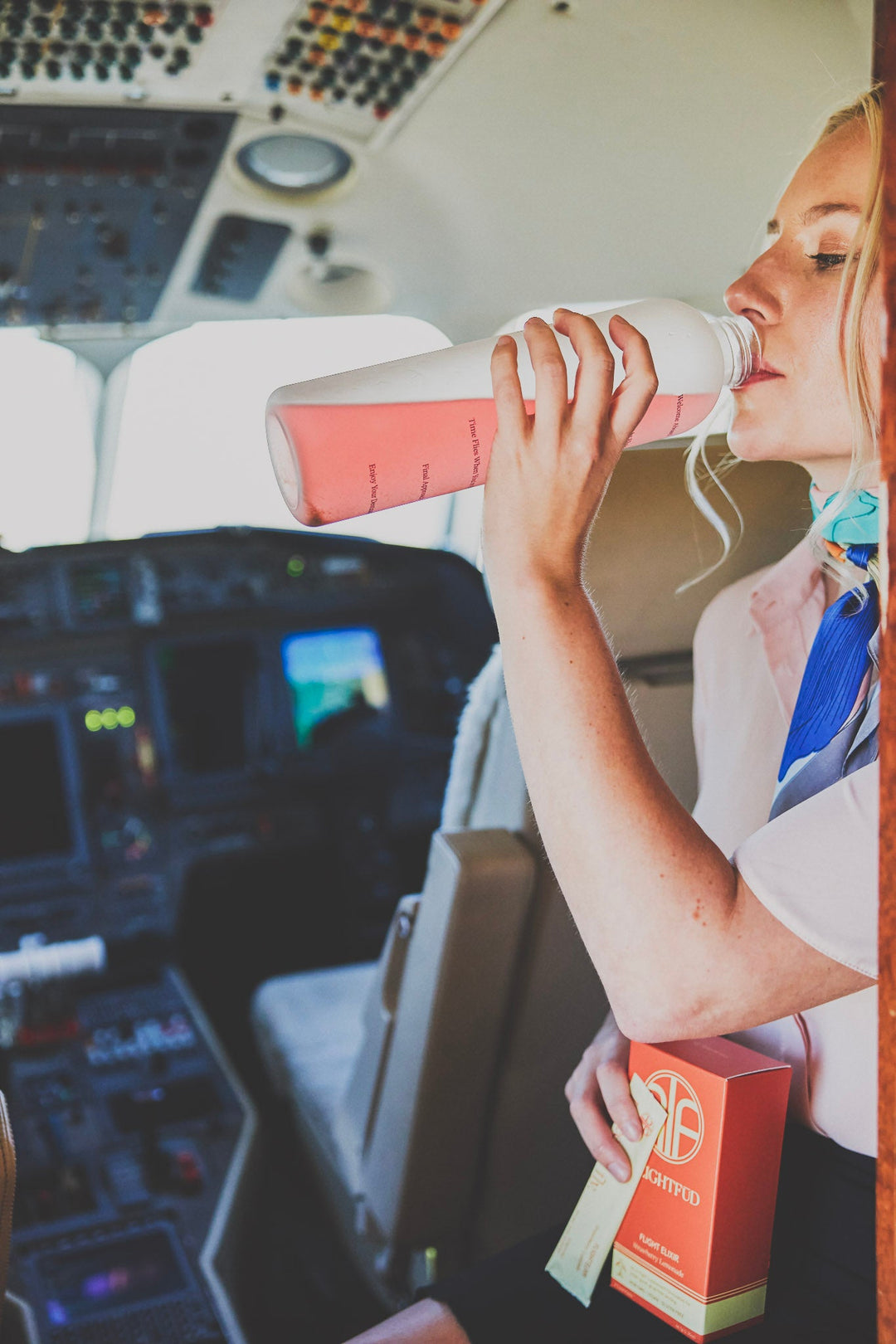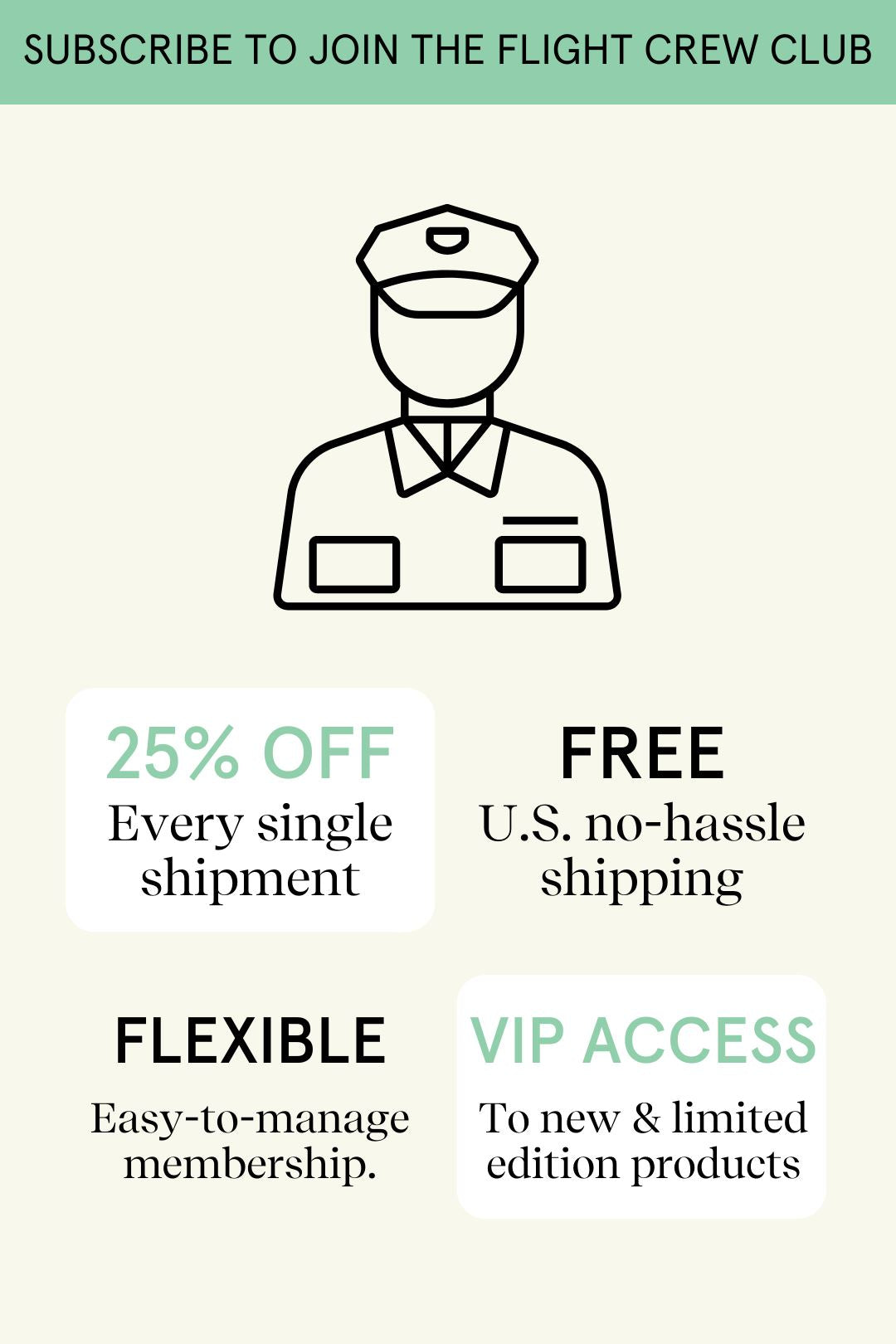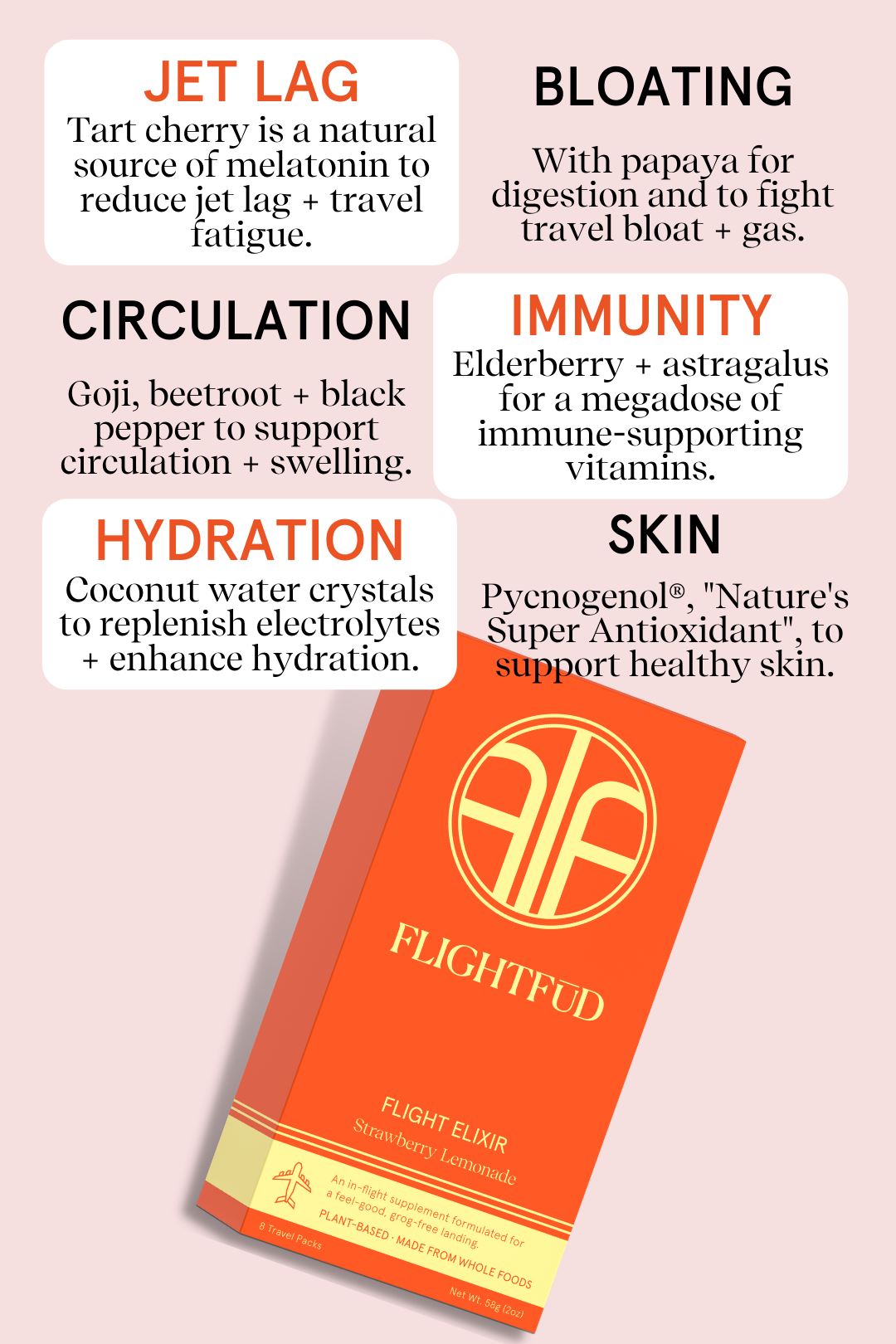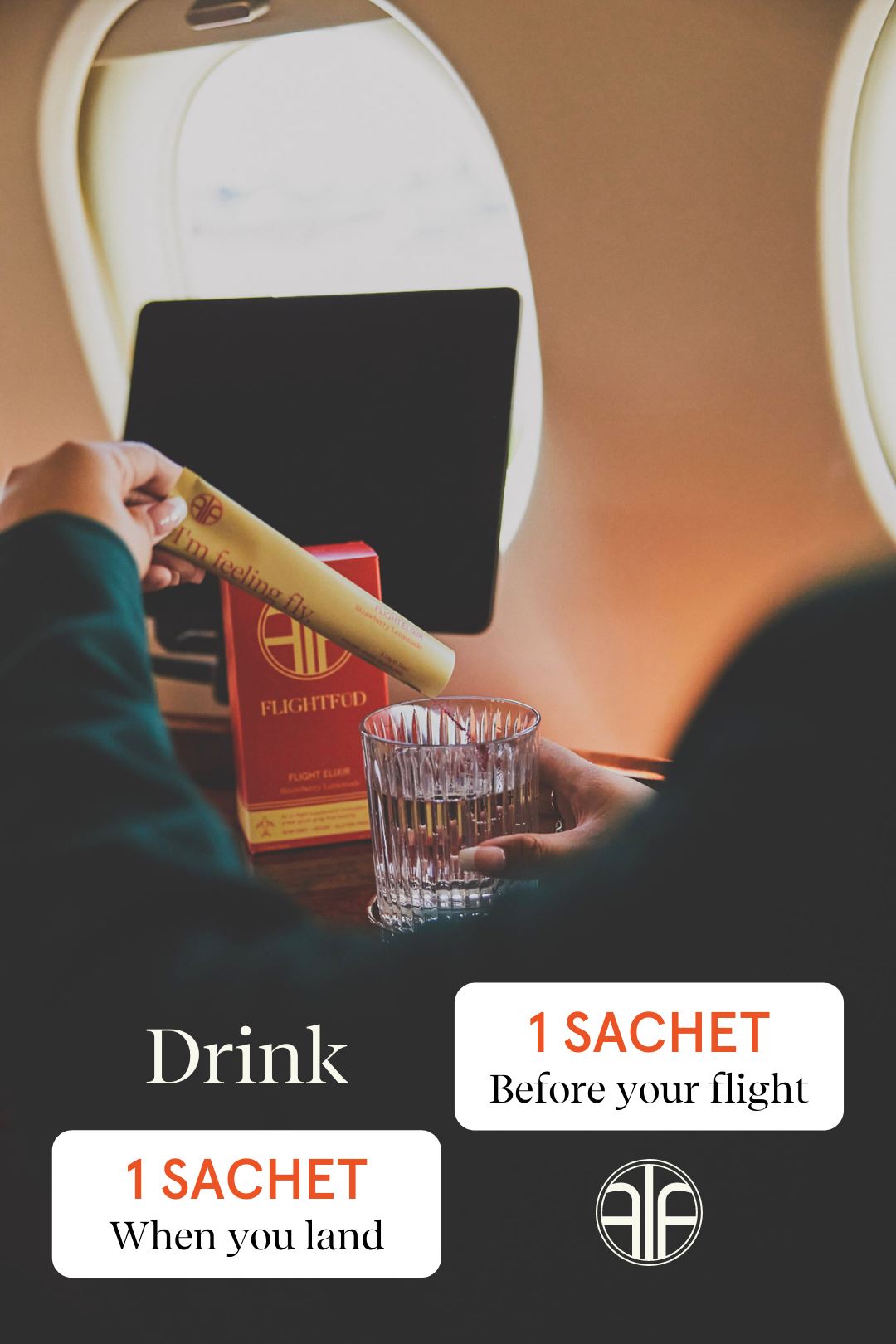 Made specifically for Flight Crews by a former Flight Attendant.
Flight attendants and pilots are the ultimate frequent flyers. And you deserve a product that will meet your unique needs.
Ingredients that make all the difference
Powerful ingredients that ensure our body and mind receives a first class feeling, every flight.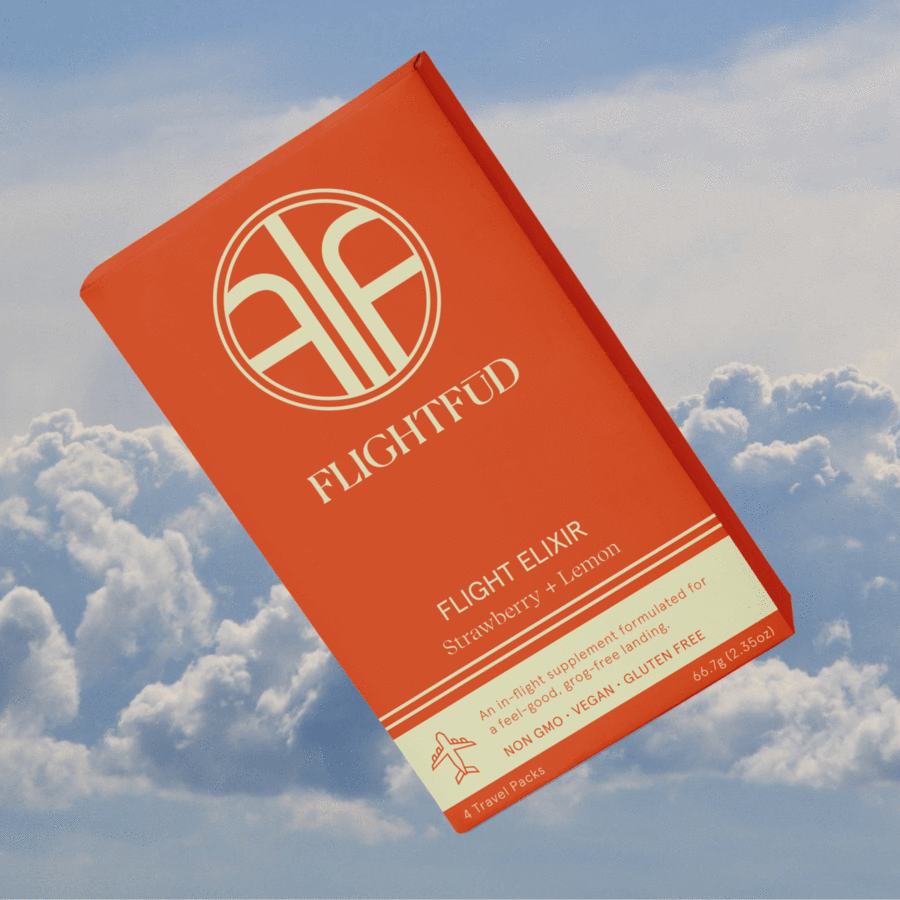 HOW MUCH SHOULD I SUBSCRIBE TO?
For optimal results we recommend drinking:

1 PACK BEFORE YOUR FLIGHT
1 PACK FOR EVERY 4 HOURS OF FLYING
1 PACK WITHIN A FEW HOURS OF LANDING.

Each pouch contains 8 individual travel packs of Inflight Elixir and is suitable for a total of 24 hours of flying!
Use this as a guide
Based on how many hours you're scheduled to fly each month:
2 bags = 48 hours of flight time 
4 bags = 96 hours of flight time
HOW TO USE
When flying, mix one travel pack into as much or as little of water as you like (flavor will be stronger in less water and subtle in more water).

FLIGHTFŪD customers favor mixing into 24oz for the full flavor and effect!
Shaken, not stirred.
Flight Elixir is made with whole-food powders to aid in digestion and maximize bioavailability, so it's best to shake to combine.

Sit back, sip, and enjoy your flight.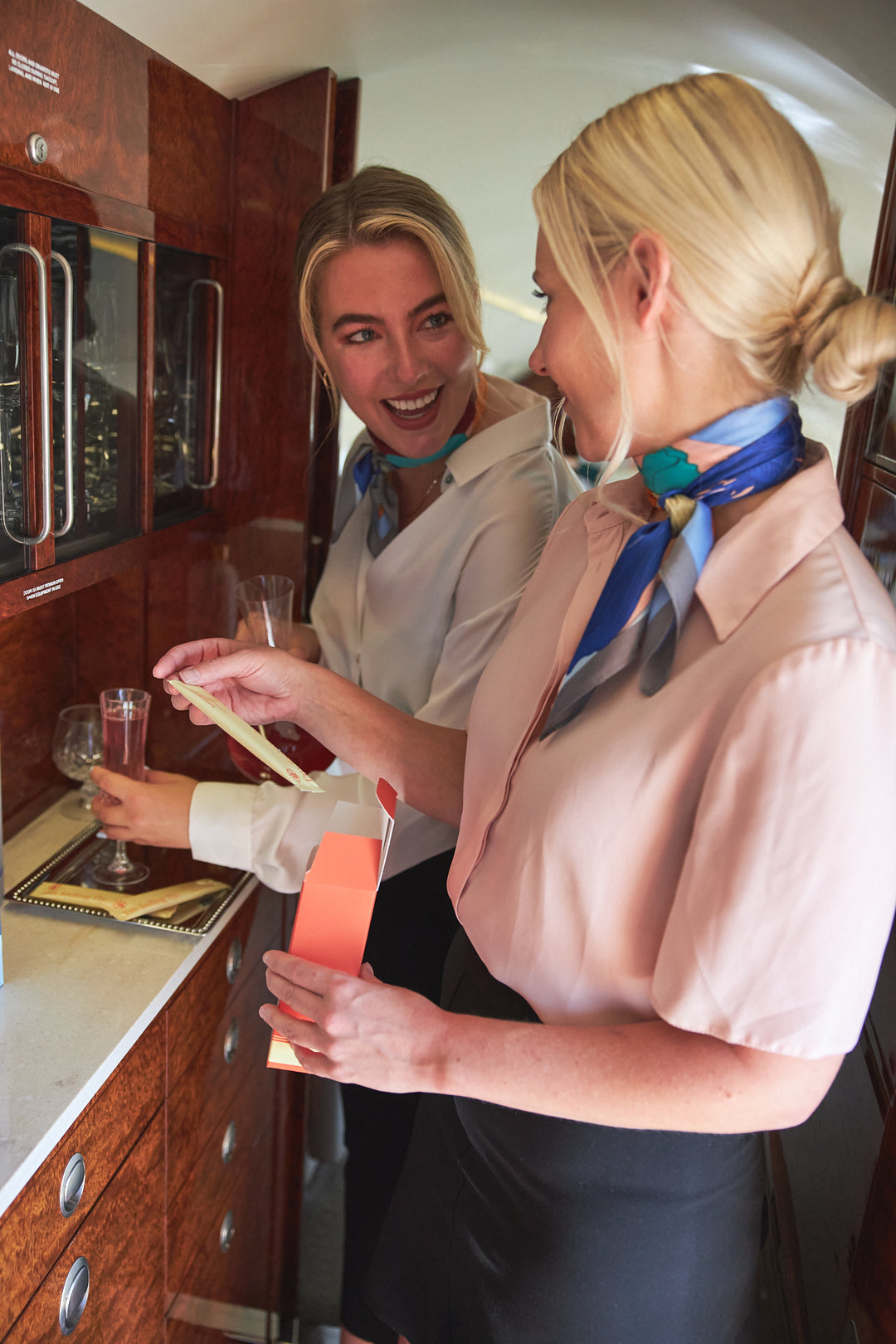 Customer Reviews
03/05/2023
Joelle P.

Canada
I don't fly without it!!
I have been using Flight Fūd for three years now… As a Flight Attendant I know just how important it is to stay hydrated and to fight free radicals! The not-too-sweet flavour is just as refreshing today as when I started drinking it three years ago. I also love supporting a woman-based business and a product that was co-created by a Flight Attendant. Try it for yourself and see!
03/01/2023
Vivian

Canada
Amazing product!
I have been taking this since last Simmer when my family and I started to travel again. I usually have an upset bloated feeling at the end of flights, but with FlightFud I didn't have that feeling. At first I thought it was all in my head….. But now after 6 trips… It really is the FlightFud!! I live in Canada and it ships super fast as well!! Well done!!
02/25/2023
Anonymous

Canada
Must have for travel
I've used this the last 3 times I've flown and it makes such a difference. I'm way less bloated and can adjust to the time difference so much easier than when I traveled without it.
02/21/2023
Claudia S.

Canada
Delicious and help me stay hydrated.
Some days, whether I am flying or not, I am pretty terrible at staying hydrated, however flight fud had made it an easy and delicious task. I wasn't sure about the flavour description as most things strawberry taste awful, I am happy to report that isn't the case with Flight Fud. I feel better when I land across the pond, and on days where I haven't been smart about my hydration. Love it.
02/15/2023
Claire K.

Canada
Travel Must Have
I LOVE FlightFüd! I never fly without it. It tastes great and helps me keep my water intake up when travelling.