Flights transformed with Flight Elixir
66,344
How to
Become a Flight Crew Club member
You can become a member by joining the auto-ship subscription program.

STEP 1: Select how much Flight Elixir you need based on your schedule.

STEP 2: Choose between delivery frequency of either 1 or 2 months. 

STEP 3: Use either your referral code or the code 6W2WB8
at checkout to get aviation employee pricing.

Cancel anytime, no questions asked.
Why Flight Crew Club Members Love FLIGHTFŪD
Reason for Flight

Flight Attendant

Review

I do the long-haul flight from Dubai to Seattle (14 hours) and this product helps with my swelling (cankles are real), but it also stops the gas from building up and causing discomfort in my stomach. Flights are much more enjoyable and there are less after-flight effects when I use FLIGHTFŪD.
Review

Great product! Anything that makes you feel like you are getting healthier in a terribly unhealthy environment gets my vote. Easy to use and tasty. Love the fact that someone is trying to help the health of aviators!
Reason for Flight

Flight Attendant

Review

Flight attendant approved! 10/10 will recommend to any and everyone who flies right now.

Immune support! Gut health! Anti-bloating! Hydrating!
Fly safe with this tasty and miracle product!!
Want to try FLIGHTFŪD before joining?

We get it! We're so convinced that you'll LOVE how Flight Elixir makes you feel that we're offering you an exclusive limited-time offer.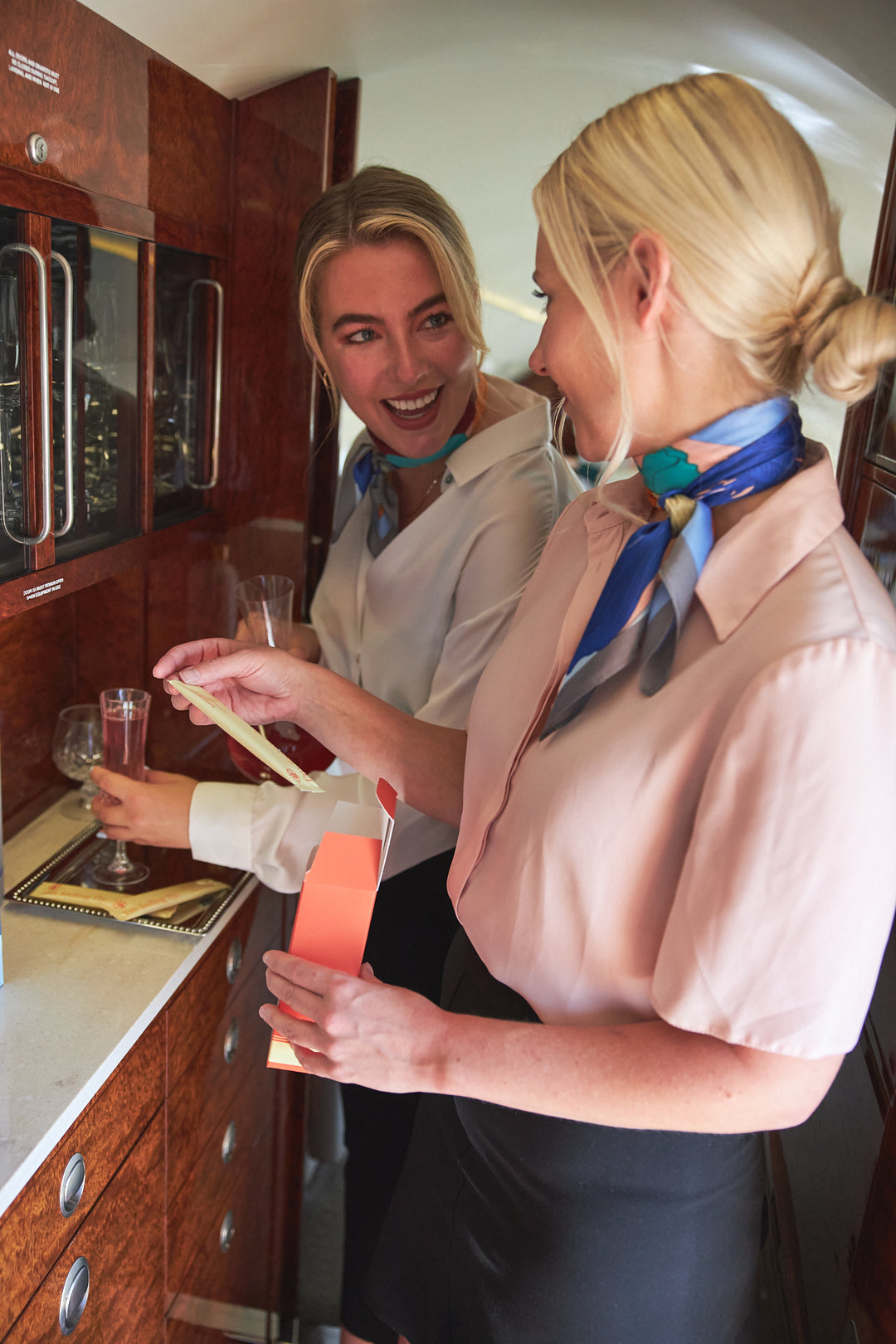 Membership Perks
VIP access to new products 
Exclusive FLIGHTFŪD travel swag
Bonus Flight Elixir to share with your crew (so they'll stop stealing yours!)
25% off Flight Elixir on every single order for as long as you're a member
Free U.S. no-hassle shipping
An easy-to-manage, flexible membership with shipment reminders and the ability to stop, pause, start, change, and add to your order
Freedom from having to remember yet another thing
Protect your body when you fly
Flight Elixir is the original healthy travel drink mix developed specifically for frequent flyers.  Drink your way to your healthiest flight with a megadose of travel-supporting ingredients like:
-Hydrating electrolytes from coconut water + Immune-supporting ingredients like elderberry + astragalus.
-Prebiotics like inulin + papaya
-Vitamin C + glutathione for cosmic radiation support, Beet root, goji berries + black pepper for circulation and an additional vitamin boost.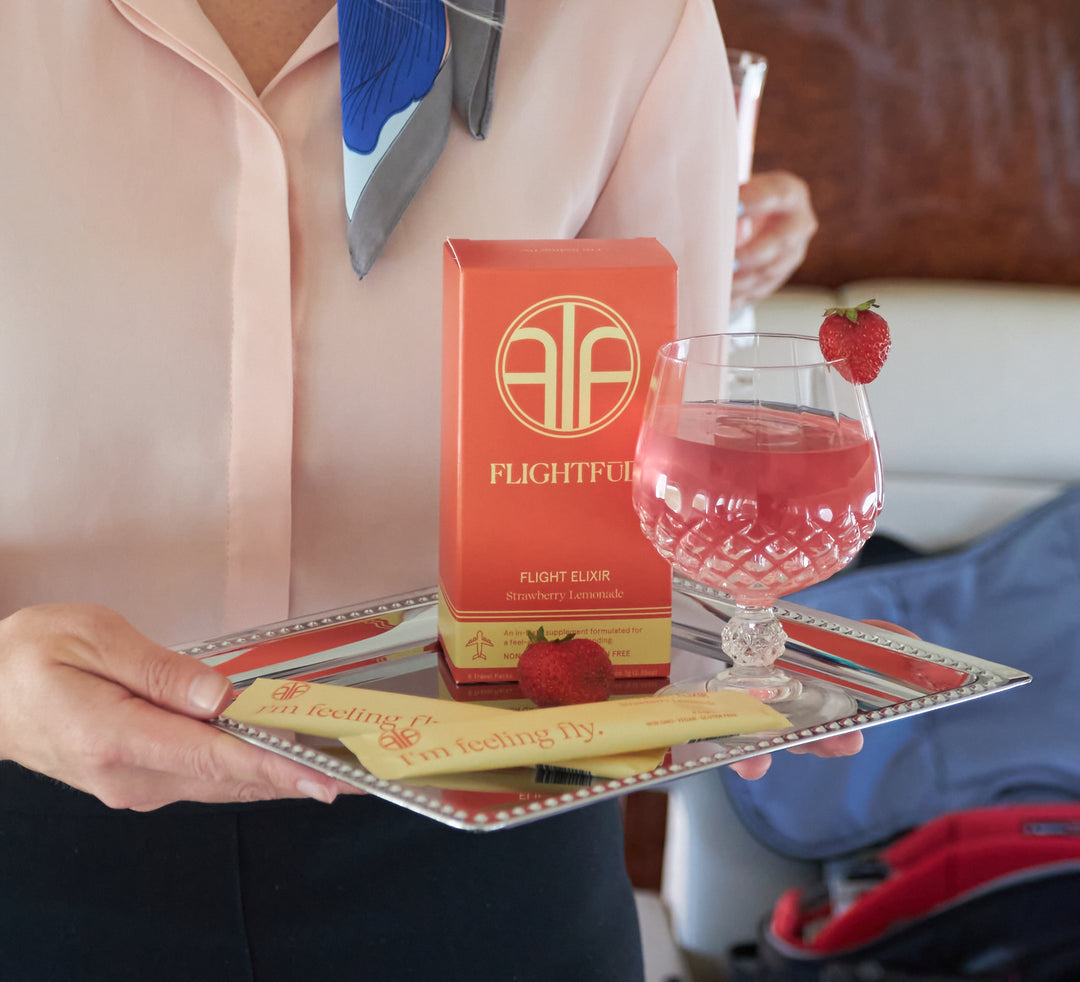 Congratulations!
So you decided to join us in the Flight Crew Club.

And you're wondering: what can I expect after I join?
What to Expect After You Sign Up
You will receive an order confirmation email with details about your auto-ship subscription.

We will send you a series of emails about the program, including instructions on how to manage your membership.

You will be set up with an ambassador code so you can earn commission on every shipment for every single member you refer!

We'll notify you of bonuses, events, exclusive offers, and free swag.
Organic coconut water powder, tart cherry powder, goji fruit powder, papaya fruit powder, elderberry, astragalus, Pycnogenol®, black pepper, vitamin c and glutathione.

Other ingredients: Inulin powder, natural strawberry powder, organic beet root juice powder, citric acid, natural lemon flavor, sodium bicarbonate, silicon dioxide, monk fruit extract.
Yes, you can cancel and pause your membership at any time.
Once you sign-up for the Flight Crew Club yourself, you'll automatically be enrolled in our ambassador program where you'll be able to refer your fellow crew members.